From Recognition to Results: Noisy Trumpet's Award-Winning Successes in July
August, 28 2023
It was a busy July for Noisy Trumpet as our agency received several awards and recognition for our exceptional client work! These awards not only highlight our expertise in marketing, but also showcase the outcomes we generate for our nonprofit clients and how we help them achieve their goals. 
Awards
Noisy Trumpet has had the honor of receiving five awards, highlighting our clients' impactful work in the community. We are proud of our team and their role in helping them achieve the following results:
DotComm Awards Gold Winner 2023 – Caverns of Sonora (Website – Travel)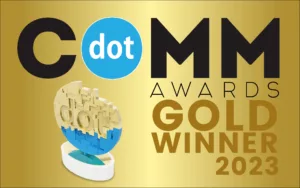 Our approach to web design and user experience has earned us recognition in the Website Travel category for Caverns of Sonora. The Caverns of Sonora are recognized worldwide for being one of the most beautiful and unique cave systems. 
Our web team helped present details for visitors in a user-friendly manner and drive traffic to the spring break landing page. The new website features a ticket purchasing section, lodging options, activities, and user testimonials. By using HTML5 and CSS, the site provides accessibility and SEO optimization. 
DotComm Awards Honorable Mention 2023 – Texas HoldEm (Website Creativity – Website Design)
Texas Hold 'Em San Antonio organizes charitable poker tournaments each year to support fundraising efforts for several local nonprofits. 
The headless WordPress stack has enhanced the website's appearance and performance, in order to drive event ticket sales. In addition to this, our team also added new content to the website to educate site visitors and boosted SEO rankings. 
Nonprofit Communication Awards – TEXAS YES (Diversity, Equity, and Inclusion Communications)
TEXAS YES is an educational nonprofit committed to boosting educational equality across Texas through programs such as Box of Dreams. This award category honors efforts that work towards diversity, equity, and inclusion, among staff and communities. 
We helped spread the word about the Box of Dreams initiative using social media, print, broadcast, and digital ads. 
Nonprofit Communication Awards – Blue Cares (Community-Nonprofit Partnership)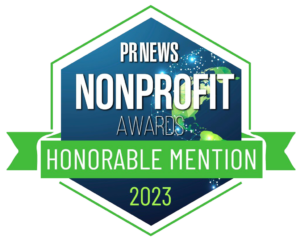 The Nonprofit Communication Award for Community-Nonprofit Partnership is presented to nonprofits that create an impact by collaborating with their community, through either fundraising efforts or local partnerships, aimed at driving change. Noisy Trumpet played a pivotal role in assisting Blue Cares in achieving this objective and reinforcing their mission. 
Blue Cares, the community outreach arm of the San Antonio Police Officers Association, identified community gaps in providing essential supplies to the homeless and at-risk during duty. Noisy Trumpet created a media-focused strategy for their "We Care Kits" campaign, showcasing SAPD's local impact in the city.
DotComm Awards Honorable Mention 2023 – God's Dogs Rescue (Website – Nonprofit)
The website we designed for Our work on the God's Dogs Rescue website created a visually appealing platform that features an updated brand look to helps promote their mission to rescue and foster pets in San Antonio, drive donations, and help them find "furever" homes. 
Utilizing the headless WordPress stack, it's allowed us to not only enhance website design creative but also optimize performance. By rewriting copy for clarity and SEO, we've created better user experiences while generating better search engine rankings. 
Web Marketing Association's Non-Profit Standard of Excellence 2023 – Puppy Food Bank
The website we designed and built for Puppy Food Bank, recently won the Non-Profit Standard of Excellence 2023 Award by the Web Marketing Association. Since 1997, the judges for the WebAward competition have held themselves to a high standard when reviewing website developments.
Puppy Food Bank is an online pet food bank that helps provide quality food to local pet rescues in San Antonio, Austin, Corpus Christi, Dallas, and Fort Worth. Our team has helped increase their efforts by putting together impactful fundraisers such as their Puppy Love Charity Auction, Pledge Month, and Puppy Yoga! We also designed the Puppy Food Bank website to be user-friendly and help boost SEO rankings.
We're proud of the impact we've made through these award-winning initiatives. Our team continues to keep delivering results for our clients. 
If your business or nonprofit is interested in learning more about the services we offer, contact us today and our team will be happy to assist!
Do You Want to Reach a Larger Audience?
We drive online and in-person traffic to San Antonio businesses every day.
Let's Chat
Related Stories